Day One - "Welcome to Heaven, Let's go to Hell"
The Moto Safari maxim struck a chord within me as the jagged ridgeline of the Twelve Apostles mountain range came into view on final approach to Cape Town International Airport. A dichotomous motto, fitting for an experience taking place throughout a country primarily defined by it's dichotomous nature; mist-blanketed and lushly-vegetated mountain terrain located in close proximity to desert basins virtually void of life; extreme wealth juxtaposed with extreme poverty; a culture with clear indications of both native and colonial influence; the still-lingering presence of social dichotomy in its most contrived form, apartheid. As the aircraft touched down on the runway outside of Cape Town, nearly 30 hours of combined flight time came to an end, and my first experience on the African continent began. Weary from travel, I found relief in the fact that I would soon be taking in South Africa from aboard a motorcycle (which I maintain is the most immersive way in which to experience a country/region/place). A friendly taxi ride brought me to downtown Cape Town to rendezvous with the Moto Safari crew. Looking out the windshield along the way, I realized that using the left side of the road instead of the right was something I would have to get accustomed to quickly. My first point of contact was Moto Safari guide Kyle Scott, a motorcyclist and Cape Town local with an infectious stoke for the experience that awaited the thirteen of us who would be hitting the road the following morning... The thirteen of us - assembling a rowdier group of guys with which to take on a backcountry motorcycle adventure would be a real challenge (in addition to being probably a bad idea). The guides: Brothers Wesley and Ryan Hannam, Kyle Scott, Byron Coetsee, and Joel Thackwray. The riders: Adam Swift, Jesse Stanley, Brandon Miquelon, Jonathan Stein, Stephano Rossi, Forrest Minchinton, Harrison Mark, and yours truly. We were all able to meet each other on that first afternoon at Cape Town's moto-centric coffee shop and bar, The House of Machines. In the backroom, a riders meeting set the tone and expectations for the 9-day, 2,500+ kilometer adventure that was to begin the following morning. It was during this meeting that Moto Safari's greater mission became clear - to alter the status quo of adventure riding. In the words of founder/guide Wesley Hannam, "...ADV has been uncool for too long, and we aim to change that perception and bring it up to date". This is a mission that we all were stoked to be a part of, as recent years have shown adventure motorcycles and their users straying further and further away from the sport's gritty and hard-offroad roots originating in the Paris-Dakar Rally. The following 8 days of riding would be no tour-de-Starbucks. On the contrary, we would be pushing our bikes to their limits (and beyond) while spending 8 or more hours a day in the saddle, pushing through some of South Africa's most remarkable and remote regions - from the misty mountaintops of Franschhoek Pass, to the lifeless basin of the Tankwa Karoo Desert... Welcome to Heaven, Let's go to Hell.
Day Two
I awoke in confusion before remembering where I was and for what reason; in South Africa, to ride motorcycles. I felt my way through the dark hotel room and towards the shower with haste, stepping out a few minutes later only to look at the bedside clock and discover that it was 3:00 AM. I chalked up my premature rise to a combination of jet lag and excitement before going back to sleep. The alarm sounded at 7:00 AM. I suited up in my Klim Dakar kit and consolidated the rest of my clothing and belongings into the dry bag provided by the Moto Safari crew, which would be transported from accommodation to accommodation via a support truck. Not having to carry luggage on our bikes meant that we would be able to push through the terrain faster and harder than if we did; a real game-changer for this type of trip. We filled ourselves with coffee and breakfast foods at the hotel before descending upon the lineup of motorcycles that awaited us outside. Nine liquid-cooled BMW R1200GS's and four Honda CRF1000L Africa Twins. A sticker with the name of the rider and the flag of their home country adorned each bike's windscreen. I spotted my name on a white GSA and promptly removed the rubber footpeg inserts before raising the seat to the high position. We stood in several ever-evolving circles and discussed our gear kits as the Moto Safari crew made final preparations for departure. A short while later, it was go time.
Finally, aboard our bikes we rolled out of the parking lot and onto the streets of an urban South Africa - a zealous mob, splitting lanes through hectic morning traffic. Motorcycle headlights filtered in and out of the view through my side mirror as we advanced through the chaos... Our surroundings changed rapidly as we reached the edge of the city and entered wine country: a rocky, green, and luminescent scape of decidedly African fauna. It was shortly after entering this new landscape that we encountered our first section of dirt, as we turned off of the asphalt and onto a double-track trail that wound along the side of a hill. The surface featured a thin but soft layer of sand containing a peppering of small rocks. Feeling out the liquid-cooled GSA in the dirt for the first time, I was surprised by the unpredictability and unresponsiveness of the front end - a far cry from the lively handling characteristics of my own oil-cooled GSA back home. I took this as a sign of the recent evolution occurring in some adventure bikes to become slightly more on-road-oriented that off-road-oriented; this occurring as manufacturers realize that modern 1000cc+ adventure bike consumers are venturing off the pavement less and less often… Steering characteristics noted I continued down the trail, dodging rocks broken loose of the soil by the riders in front of me and setting new rocks loose for those behind me. After knocking out a good chunk of distance on dirt, we were reunited with pavement for the winding climb up to Franschhoek Pass. The road was of pristine condition: wide lanes, slightly banked turns, and a fresh asphalt surface provided us with the means to have a properly quick ride up the mountain. Still not accustomed to riding on the opposite side of the road, the sudden appearance of oncoming traffic in the right lane while flying around a corner was enough to send a shiver down my spine. Atop Franschhoek pass with tires scrubbed from edge-to-edge, we remarked on the beauty of the valley before us. Morale was high as we rode down the other side of the mountain and into the town of Franschhoek for lunch. Sitting under the trees at an outdoor cafe, the vibe of Franschhoek was undeniably European. "The bougiest town around, you say?" I asked Kyle, "Oh big time," he replied, "...by a long shot". The air was considerably hotter when we got back on our bikes - zipping open the vents on my Klim Dakar jacket and pants proved to be a good call once we began moving again. Several rows of South African mountains layered the horizon, each unique in their shape and grandeur. I was constantly impressed by the natural beauty that the region had to offer. More pristine asphalt was on the menu for that first afternoon. Having become more at home on the GSA (and more confident in the road-holding capability of its rubber), I pushed myself even harder in the turns. At one point, Kyle, Swifty and I broke away from the others to attack an utterly dreamlike section of road - an activity the three of us would repeat many times over the next 2,000 or so kilometers. The further inland we traveled, the more rapidly the scenery transitioned into something desert-like. Rooster tails of dirt and small rocks were sprayed in every direction but forward as we chased each other up a moderately steep dirt road. Catching some roost while going at it with your buddies is all good fun until your bike begins to spray coolant from places it shouldn't. A mist of hot liquid on my chest, neck, and face paired with the unique smell (and taste) of antifreeze quickly indicated that a flying rock had put a hole in one of my radiators. I stopped at the top of the steep hill to asses the damage, which turned out to be just a couple of small perforations in a single radiator fin. These perforations acted as nozzles, spraying the coolant onto the backside of the upper fork tube which then directed the stream onto my upper chest and face… In other words, a stray rock had effectively turned my motorcycle into a sadistic Rube Goldberg machine. Fortunately, I was only a few kilometers from our destination, and I was able to coast the bike downhill for about half of that remaining distance. Cederberg Oasis, a camp, and lodge catering to the off-road motorsport enthusiasts of the region, was our accommodation for that first night. After taking a few moments to patch the bike's radiator with a high-temperature epoxy, Wesley and I joined the rest of the crew under a covered patio and unwound over several Windhoek beers and copious amounts of grilled, local meat. The thirteen of us later convened on the front porch of the lodge which had a large map on one wall. We recounted the day's ride, discussed the map, and roared in laughter at each other's expense - hilarity and wit were always in good measure among our group. I later retired to my safari tent and fell asleep quickly; it would be my first full night of sleep since I had departed the states several days before.
Day Three
I rose feeling well-rested and eager to ride. A quick breakfast on the patio and several cups of coffee provided us with the fuel necessary to take on the day. The first few kilometers of the ride ticked away blissfully. Cool air, sweet views, and growing confidence in the machine beneath me. I was feeling something and decided to let loose. Liberties were taken on large handfuls of throttle - big slides ensued. I passed Ryan at an immense speed and with no one else in front of me, rode even faster. Very few corners later, upon entry to a decreasing right turn, I realized I was cooked. The bike was virtually unresponsive to my steering input as the front tire slid on the gravel below… This was going to be a bad one. My inner disaster-management program kicked in and assessed the situation for me: There was no way I was going to make this turn at my entry speed of 110 km/hr. I was going to run wide, that much was certain, but where? I looked on the outside of the turn near its exit: Large boulders… Death - not going to work. I looked directly through the turn instead: Small boulders, bushes, and a ditch… Potentially survivable - my best option. I straightened out the bike and applied full braking as I approached the berm on the outside edge of the road, attempting to slow down as much as possible before hitting it: 100. 90. 80. 70. Impact. Airborn. My last recollection of the crash itself is being in the air, with the bike at a severe sideways angle and my handlebars crossed-up in the opposite direction. It was the sickest whip I've ever thrown… except I wasn't throwing a sick whip: I was about halfway through a nasty wreck. Go figure. The next thing I remember is standing upright beside a bush with the motorcycle I had just been flying through the air on nowhere in sight. I waited for the pain to hit as I looked down at my body: my jersey appeared as if a bomb had gone off inside of it, but my Leatt 5.5 armor was in-tact. My shoulder hurt, I could feel my face and neck bleeding, and my right knee was cocked at a rather unnatural angle, but I was alive, so that was cool. Arriving at the turn just a few moments later, the boys feared the worst as they saw the tire trail and cloud of dust: they were visibly relieved to see me standing. I apologized for my mistake but was reassured by all, "It happens". I remember thinking to myself that it had indeed been a long time since I had a proper come-off, perhaps it was overdue. If you ride long enough without incident, you start to feel a bit invincible… Nothing reminds you of your mortality as effectively as a bad crash. My GSA had come to rest in the ditch just beyond me and had fared just about as well as I had: Crash bars bent, handguard broken, a few buttons missing on the left side controls and a small hole poked in the valve cover. It wasn't until we began loading the wounded motorcycle onto the support truck's trailer that my adrenaline wore off, and a wave of confusion and nausea rushed over me; I was pretty concussed. The scarring on the side of my Klim Krios Pro helmet illustrated the impacts experienced during the crash. The paint scheme was not so fresh-and-pretty anymore, but the helmet had performed it's ultimate task very well. Joel, the designated medic and support truck driver, checked me over and dressed my wounds with efficacy. I spent the remainder of Day Two riding along with Joel in the support truck, enjoying the scenery and contemplating whether or not my knee would be well enough to function for the remaining seven days of riding.
That afternoon we traversed the Tankwa Karoo Desert, which appeared more mars-like than earth-like. A vast, flat expanse of the region harbored virtually zero life. A lack of soil deposition provided rocks and boulders on the barren desert floor with the specific conditions necessary to weather in-place for tens of thousands of years, without fragments becoming buried or displaced. The result is a random pile of fragmented rock located here and there, actively and uninterruptedly wasting away over incomprehensibly long periods of time. A truly timeless sight in an ancient landscape.
Several flat tires had to be dealt with that day, two on motorcycles and one on the support truck. At sunset, we followed a steep switchback trail up the side of a mesa that bordered the Tankwa Karoo Desert. Once atop the mesa, the intensity of the sunset grew dramatically before fading to darkness. We arrived at our lodging for the night in Sutherland, but not before Jonathan looped out his bike while performing a wheelie just a few hundred meters from our accommodation. I didn't feel so bad about my crash anymore - guilt loves company. After a dinner pairing of Windhoek grilled local lamb, I stayed up late with some of the others as we tackled a number of necessary repairs: Punctured tubes on two Africa twins and punctured valve covers on two GSA's. Zip ties sufficed in the repair of my handguard. Four bikes laid on their side and were worked upon in an efficient tag team. Hilarity was in abundance and laughing filled the night air. In spite of the circumstances and challenges at hand, everyone was wearing a smile.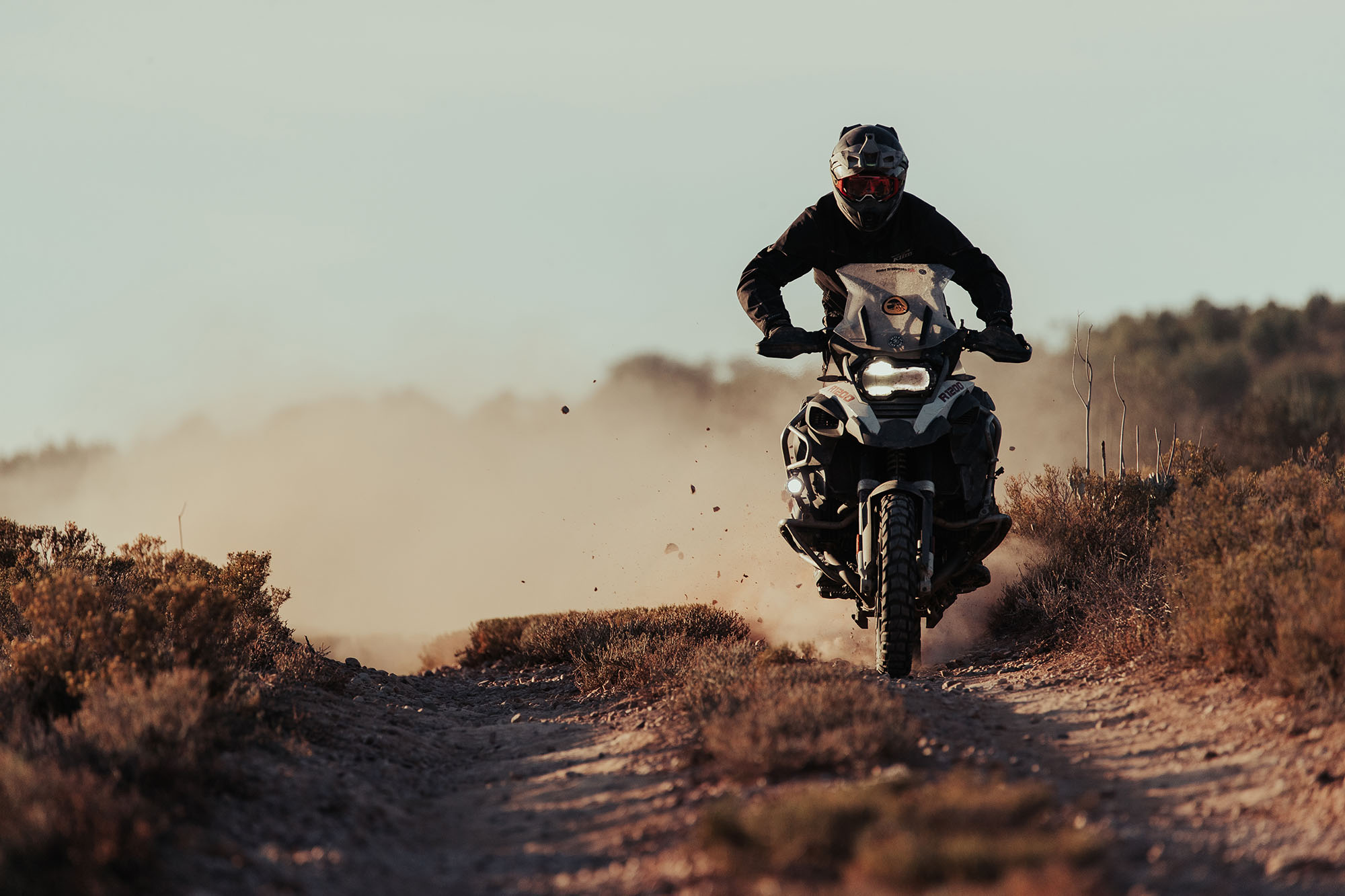 Day Four
Immense soreness and a painful headache. I was certainly feeling the damage sustained the day before. What worried me most was my knee: it was obvious that something was torn, as the lower half of my leg flopped around loosely and moved in ways that it shouldn't (I would later learn that I had torn my MCL), however once in the saddle of my field-repaired motorcycle I discovered that the joint could actually handle the movements and directional forces of riding quite well: I would just have to keep standing on the pegs to a minimum and avoid any motion that applied force to my lower leg in the "bad" direction. Jonathan was also feeling the consequences of his actions the day before, a badly swollen wrist (that he later learned was broken) hindered him for the remainder of the trip. We didn't really care, as we were after all, in Africa with motorcycles and bodies functioning well enough to pilot them. We ate advil for breakfast and hit the road.
That morning was characterized by a surprisingly early heat that rose in intensity with the sun. We traveled a ways along a dusty gravel road through the rolling desert plains outside of Sutherland before taking a right turn that led into a steeply-walled canyon. An intensely and intricately folded mass of vertical earth presented itself on each side of the dirt road, with every layer of the wall's folded strata featuring a slightly different hue of red-orange than the layers neighboring it. We followed this canyon road for what seemed like two hours. Every turn provided us with a fresh reiteration of the canyon's impressive beauty.
After being eventually spit out of the canyon and onto an asphalt road, we dropped into a town for lunch. Bobotie, a curry-spiced dish consisting of minced meat and baked egg served with rice and chutney, served as an interesting reminder of the region's history and the lasting influence of the activities carried out by the Dutch East India Company more than 350 years prior.
Stomach's full, we returned to the road and experienced yet another rapid change in our surroundings as we entered a higher altitude, more lushly vegetated subregion - picturesque South African wine country. Locals were excited by the sight of a group of adventure bikes, and provoked us from the roadside by imitating the motion of twisting a throttle. We obliged them. The land opened up as we entered the Swartberg mountain range, a landscape which strongly resembles the mountains of Southern Italy or Spain... A single day of riding through South Africa will provide you with enough scenery changes to make your head spin. Short cobblestone walls lined a dirt road that wound up the side of the mountain range. Intense, picturesque beauty was everywhere. On the summit we were greeted by cool temperatures and high winds, stopping to appreciate the view before descending onto the winding dirt trail that followed the range towards Die Hel - a remote, narrow valley which the Moto Safari motto alludes to. The trail to Die Hel was certainly the most enjoyable of the trip so far, and possibly the most enjoyable of the adventure in its entirety. Featuring great dirt, tight corners and varying terrain (including more natural jumps than I could count), every one of us took great pleasure in devouring this epic mountain trail. We chased each other in several groups, constantly trading positions while sliding out of turns and taking flight off of the jumps. The final descent into Die Hel is a section of very narrow and steep switchbacks that, over a short distance, drops nearly 600 meters into the remote valley. No throttle needed, just allow gravity do its thing and feather the brakes when necessary. Wes took point at the bottom of the descent and stirred up a thick cloud of dust along the sandy path that led through the jungle in the bottom of Die Hel. Riding through the narrow valley towards the setting sun, the hanging cloud of illuminated dust cut visibility down to 15 meters or less. At the end of the jungle path was our lodging for the night, a series of renovated buildings dating to the original settlement of Die Hel in the mid-19th century. I was the second rider to arrive at the lodge behind Wes, who I found (in classic Moto Safari fashion) already preparing "some beers for the boys". We lounged on the lawn of the lodge and enjoyed another fantastic South African meal before heading to our individual lodges for the night - we had found heaven in Die Hel.
Day Five
A breakfast featuring several french presses full of fresh coffee fueled our already high spirits. While suiting up we took delight in knowing that we would get to enjoy the route we took into Die Hel once again, this time in the opposite direction as we headed back out. Thick cold mist, dramatic skies, and another epic rip through the valley, up the side and along the mountain range with Kyle and Swift. Jumps and wheelies ensued, along with another flat for an African Twin and finally yet another epic descent into a beautiful canyon. We found pavement and pounded it towards town for lunch. Kyle and I pushed the limits of our rubber on a long and weaving section of canyon road. The high water temperature warning light illuminated on my dash as we entered town, and as we came to a stop I noticed coolant streaming out of the bike and onto the parking lot. The problem? Another inconveniently-aimed projectile rock had struck and broken off the water temperature probe located on the underside of the right cylinder head. We came up with a concept for a makeshift plug and Ryan manufactured it using the broken temperature probe remains along with a random body panel screw and some quick-setting epoxy. The Macgyver-esque repair was given time to cure while we had lunch and the coolant system was refilled with tap water before continuing on.
Cloudy skies and cool temperatures set the tone for our ride into Baviaanskloof (Baboon Valley) where we soon came across, as you may have guessed, Baboons. Appearing in small groups on or alongside the road as we rolled through the valley, the Baboons would take notice of us and maintain or increase their distance without necessarily seeming spooked by our presence. Our accommodation for the night of Day Five was as interesting as they come: a compound of cabins built into the entrances of naturally-occuring caves. We enjoyed our own South African barbecue that night outside of our caves, with Stefano taking charge of the meat cooking operation. The thirteen of us laughed heartily at the absurd hilarity that our group brought with us everywhere we went. Fits of laughter often spiraled out of control for minutes on end, each joke leading into next, usually delivered alternatively between Jesse and Jonathan. After spending several hours lounging by the fire under a full sky of stars, we retired to our caves. I slept deeply.
Day Six
As I awoke It took a moment to remember where I was - in a cave, in Baboon Valley. I could hear the others talking. By now, everyone's voice was clearly distinguishable. We took advantage of the instant coffee and kettle pot found in our cave-cabin before rendezvousing outside with the rest of the crew. A short ride lead us to a beautiful farmhouse where we would have breakfast. Fresh coffee, delicious sandwiches, and loving dogs were all in abundance. Swift fell victim to one of the dog's charms as it cunningly stole a sandwich directly off of his plate.
The route for that day contained the gnarliest and most challenging terrain of the trip so far: we would be traversing the entire Baviaanskloof on a remote and technical mountain pathway roughly 250 kilometers in length. Grinning from ear to ear we pushed our oversized dirt bikes through endless rock gardens and plunged into deep water crossings with gusto: some of them stretched over 100 meters in length, while all of them harbored surprises on their rocky and unpredictable bottoms.
A solid effort during our traverse of Baviaanskloof brought us out the other side in good time. We stopped for lunch and indulged in coffee milkshakes (which by then had become a traditional part of our lunch routine). The air became cold as we neared the coast of St. Francis. While pulling into town the front shock of my GSA decided it could take the abuse no longer - oil erupted from it's seal as it failed and all virtually all front end suspension damping was lost. We arrived at our hotel in St. Francis with every rider still soaking wet from the waist down due to the water crossings that the day had provided. The thirteen of us discussed our trail triumphs over a few draft beers before turning in for the night.
Day Seven
In the morning Wes made his rounds popping his head into each of our shared rooms, shouting "Helmets on!". I made an effort to dry my still-wet gear with the hotel room blow dryer, and was partially successful in doing so. Over breakfast we dove into conversation about primates and African game, as we would soon be embarking on a safari.
A few hours spent riding a coastal road brought us to a farm stall, where a great variety of fresh meat pies could be selected from for lunch. I picked out two for myself: lamb & mint, spinach & feta. Both were excellent. From the farm stall, the private game reserve where we would be going on our game drive was just a short ride down the road. We were all happy to change out of our riding gear and into shorts and t-shirts, knowing that the rest of the day would involve one form of leisure or another. Our crew was divided and boarded onto two Land Cruiser safari rigs. The boys were rowdy as ever. Driving through the game reserve to a soundtrack of unending laughter we encountered elephant, crocodile, hippopotamus, giraffe and zebra going about their day, and lion + lioness mating.
After dinner at the game reserve lodge we boarded the Land Cruisers to be taken out to our bush camp - located in the middle of the game reserve with only a perimeter of prickly vegetation to keep the lions out. A fire was made and a number of Windhoek's enjoyed before Nick, our enterprising safari guide, returned to our camp in the Land Cruiser and joined us by the fire for a while before asking, "You guys wanna go on a night drive?". We piled into the bench seating atop the safari rig and drove off into the night in search of large, dangerous animals. Purpose-built spotlights in hand, we located a family of elephants and later, a wounded male lion. He roared in displeasure at the fact that a younger male lion on the preserve had been mating with his former partner. As the injured lion limped across the savannah, we questioned if he would be able to recover from his injury. Nick assured us that in just a number of days the lion would recovered and back in full force. Meanwhile, Jesse (who happened to be the tallest and largest member of our group) fearfully questioned the security of our bush camp. Nick fed into his fears, "He's walking right towards your camp, we better go warn the others". We all laughed. Shortly thereafter, we watched as the lion walked directly through a perimeter of prickly vegetation just like the one that was supposed to provide our camp with protection. Jesse was no longer the only one concerned about a lion waltzing into our camp during the night... Once back at camp we sat around the fire for a while longer and shared ideas of future motorcycle trips, until the roar of a lion coming from directly outside the bush perimeter gave us the motivation to enter our huts for the remainder of the night.
Day Eight
Morning light filtered through the trees and bushes surrounding our camp. No one had been eaten. We were picked up by another Land Cruiser with a different driver, and carried across the cold morning Savannah being brought to life by the rising sun. A multitude of animals were scattered about. Reunited with the bikes I remembered that my front shock was blown, it would have to be lived with. The morning was spent riding through beautifully vegetated country on our way to an elephant sanctuary, where we were able to meet a number of well-protected and cared-for elephants. Lunch at the elephant sanctuary involved bobotie and coffee milkshakes - the official fuel of Moto Safari.
The afternoon was spent ripping a magnificently technical mountain pass. My front suspension chattered and bounced violently at every bump, struggling to hold the front tire to the ground. This spirited road-riding went on for several hours, eventually bringing us to the area where our "glamping" accommodation was located. On our way through town, Byron pulled stand-up wheelies for what seemed like hundreds of meters at a time. That night we discussed the experiences we had shared on the trip thus far as we regretfully acknowledged that we would be returning to Cape Town the following day…
Day Nine
Forrest, Harry and I got on our bikes before sunrise to head over a neighboring hill to the east and do some shooting in the grandeur of the early morning light. It was still and quiet. A group of young children gathered along a fence that bordered the hillside to watch us ride. We returned to our large "glamping" tents (which were more like a small apartment with soft walls) to retrieve any remaining gear. I walked inside to find that Joel had proudly prepared a hearty breakfast: eggs with lamb sausage and cheese, served on toast. Many kilometers of tarmac remained between our crew and Cape Town. The thirteen of us hit the road and flew. High winds and high speeds characterized our final leg of riding back into Cape Town, along with road closures, detours, and an afternoon stop at another farm stall for some meat pies.
Finally, we descended back into Cape Town and parted ways with our motorcycles - the end of the road. After everybody checked in at our downtown hotel and cleaned themselves up, we hit the town in full force. It was a late night, a final and fiery celebration of the experiences, struggles and triumphs that we had shared together. All thirteen of us had experienced our own personal versions of heaven and hell during those 2,500+ kilometers of adventure. Heavenly peaks and hellish chasms which, in the end, served to illustrate the dichotomous nature of the country we were in, as well as it served to highlight the underlying purpose of adventure riding itself - to experience places, moments and people for better or for worse: to get far outside of one's comfort zone: to take challenges in stride and overcome them with absolute confidence.
Booking email: hello@motosafari.co Next Journey: April 8th - April 20th 2020. Instagram @motosafari
The price depends on group size and early bird specials. Check out Moto Safari at www.motosafari.co