Zipperless Closure, RF-Welded Waterproof Liner Pods With Air Purge Valves, GL Molded Rubber Grab Handles,
Laser-Cut Aluminum Exhaust Shield, Fresh Graphics, Rider Inspired Updates
(BEND, OREGON USA) Based on overwhelmingly positive rider feedback after a limited preview release in 2016, adventure proof packing and gear systems innovator Giant Loop redesigned its pioneering horseshoe-shaped motorcycle saddlebag for 2017 with the new Coyote Saddlebag Roll Top. The Coyote Saddlebag Roll Top features a convenient rolling closure that seals out water and dust while maintaining the packable volume and all the unique "go light, go fast, go far" benefits of its zippered predecessor, the original Coyote Saddlebag: Super rugged, stable, lightweight, rackless mounting, gear positioned tight to center of bike.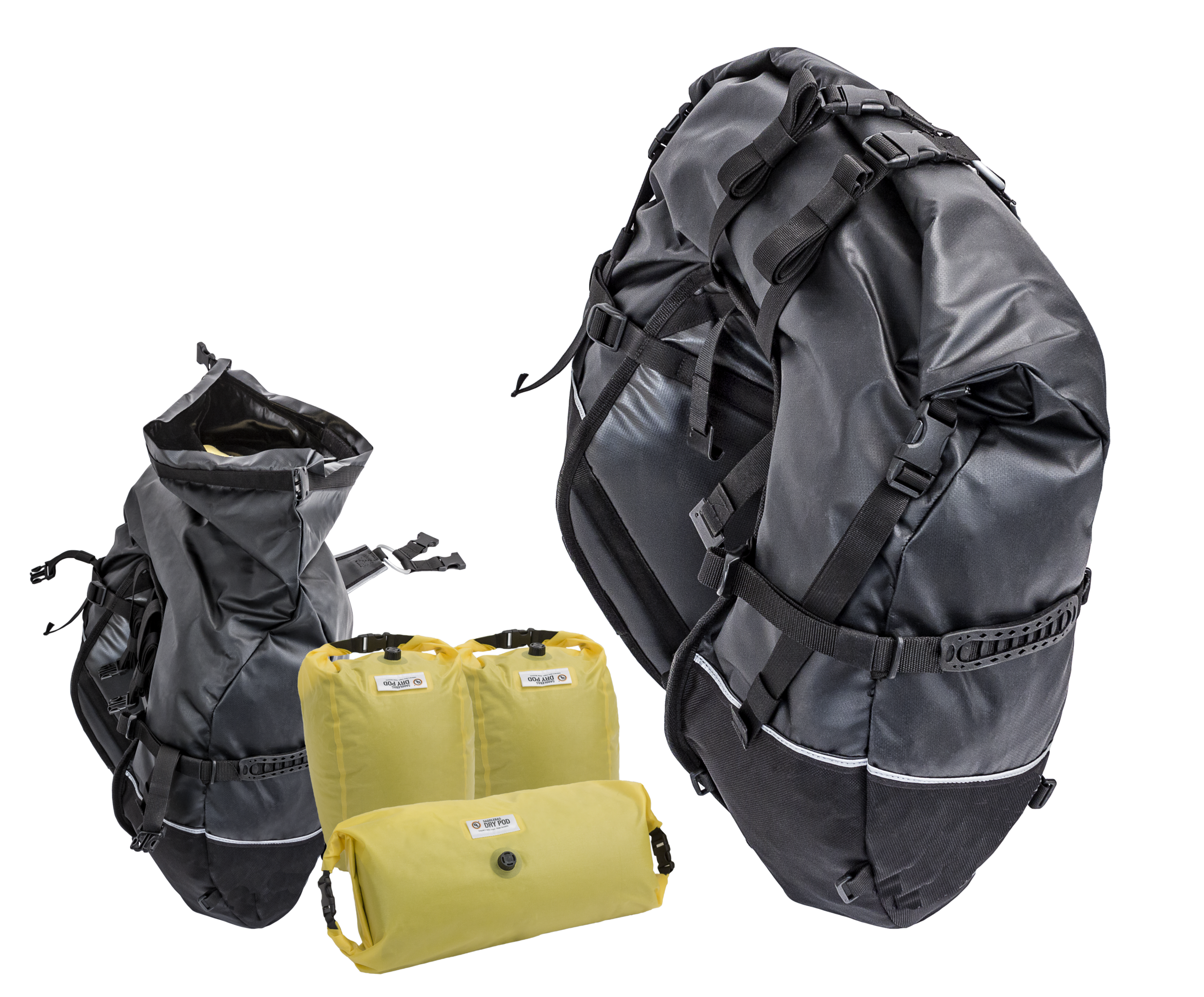 Other enhancements include Giant Loop-branded molded rubber grab handles that double as side compression straps, an included set of 3 RF-welded waterproof inner liner Saddlebag Dry Pods with air purge valves, and drains in the bottoms of the Saddlebag's "legs" that allow water to escape if it manages to penetrate the highly water resistant out shell. An included laser-cut aluminum Hot Springs Heat Shield with stainless steel clamp offers protection from exhaust. For 2017, Giant Loop also freshens up its graphics with sewn-on rubber labels. Riders can color match or complement their motorcycles with a choice of five standard colors: yellow, white, orange, gray and black

The new Coyote Saddlebag Roll Top represents a major redesign of Giant Loop's original flagship horseshoe-shaped dual sport and enduro Giant Loop Saddlebag design that launched the company in 2008. The Coyote Saddle Bag Roll Top is the new choice for hardcore off-road expeditions, wrapping gear weight around the motorcycle's subframe, exactly where it impacts handling the least. Riders can carry gear for overnight or multi-day trips and still have access to the entire saddle for rigorous off-road riding. The Coyote Saddlebag Roll Top mounts to the rear fender and/or tail rack of virtually any dirt bike, dual sport or enduro motorcycle, as well as many street bike makes/models. Cordura Ballistic webbing straps anchor the Coyote Saddlebag Roll Top to the frame or subframe on most motorcycle makes/models - as well as snow bikes, such as Timbersled Products.
Coyote Saddlebag Roll Top Specifications:
39+ liters packable volume (with three rolls of top to create waterproof seal, more in dry conditions with fewer rolls)
1 Hot Springs Heat Shield (laser-cut aluminum) + stainless steel clamp included
Set of 3 RF welded waterproof inner liner Saddlebag Dry Pods with air release valves included
Rear mounting options - use included fender hooks OR included webbing anchor strap to fit virtually any bike or tail rack
Stabilize gear load using side compression straps with custom molded Giant Loop rubber grab handles
Attach additional gear using beavertail and cinch ring with side-release buckled compression straps that integrate with double-end Rogue Dry Bag and Tillamook Dry Bag (available separately)
Lash loops to attach Possible Pouch external pockets
Reflective accents for better visibility
Military-spec materials and construction
Limited Lifetime Warranty
Made in U.S.A.
Available in yellow, white, gray, orange and black

Giant Loop's Coyote Saddlebag Roll Top retails for $360 USA MSRP (including set of 3 waterproof Saddlebag Dry Pods, 1 Hot Springs Heat Shield exhaust protector and Cordura ballistic anchor strap). The Coyote Saddlebag Roll Top can be purchased at Giant Loop's showroom/warehouse in Bend, Oregon, online at www.giantloopmoto.com, plus Giant Loop's adventure proof motorcycle, snowmobile, snow bike, ATV, UTV, SxS, 4x4 and outdoor packing and gear systems are available from powersports dealers across the USA via Tucker Rocky Distributing, as well as from international distributors around the world. Giant Loop is a rider-owned company that designs and tests products in Bend, Oregon. For all the details, go to www.giantloopmoto.com or www.giantloopsnow.com.